Degree

DURATION

COSTS
What Participants Say About the »E-Commerce Manager« Certification Track
Thanks to the ›E-Commerce Manager‹ certification course, I obtained a 360-degree view of digital business. The modules really cover everything – from strategy to logistics. The contents of the seminar series are very practical, which means that they can easily be put into practice within companies as well. The knowledge I acquired also allowed me to develop new ideas that take our company forward. To sum things up: this is exactly the right training course to understand e-commerce in its entirety!
E-business is not a topic that individuals or one company department can deal with on their own. It is crucial to raise awareness of this topic in all company departments. Those who have understood this and also keep an eye on general market developments should have enough arguments to make their entire workforce fit for the future. I liked the seminar very much because the participants are trained to become e-business generalists.
The Würth Group invests in digitalisation in all company divisions. E-business is an important extension of our multi-channel distribution strategy. In this context, we want to give our employees the opportunity to take part in the ›E-Commerce Manager‹ certification course.
The ›E-Commerce Manager‹ certification course provided me with a holistic overview of e-commerce. Although the content was taught in individual modules, it was also brought together to create an overall picture. It was particularly important to me to be able to apply the newly acquired knowledge in the B2B sector after the course. The hands-on approach to conveying the content definitely helped me to do that.
Especially for someone like me who is completely new to e-commerce, the seminar was incredibly helpful. I learned many basics, tools and working methods for various topics such as shop management, online marketing, optimisation and analytics, which I can put directly into practice. The training materials also serve as a reference book whenever I need detailed information on a topic. That is why this was exactly the right training course for me.
The course offers very deep insights into the different areas of e-business and is structured in a very entertaining and practical way. The close cooperation with various external experts and the cross-company group of participants really broaden horizons as well – in every area of responsibility.
Companies today can no longer ignore the rapid development of e-business. It is necessary that employees are specifically trained in this area. The seminar imparts a great deal of practical knowledge and methods in a collegial atmosphere. Just perfect!
The ›E-Commerce Manager‹ certification course gives a deep insight into the different disciplines of e-business. During the seminar days, it becomes clear how diverse this area is: design, technology, marketing and controlling are all part of it. These topics are taught in a very practical way, which not only allows you to gather many ideas, but also to implement them directly in your company.
Thanks to the successful mix of theory and practice in combination with lectures by external speakers, the ›E-Commerce Manager‹ certification course is recommended for anyone working in the digital sector. The way the course thoroughly covers the various topics, from strategy to implementation, gives you the opportunity to look at a project in its entirety.
I acquired in-depth practical knowledge, gathered innovative ideas and gained new insights into backgrounds and contexts. A thoroughly successful seminar, thank you very much!
A Selection of the Companies That Have Their Professionals and Executives Take Part in the »E-Commerce Manager« Certification Track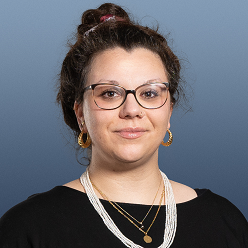 Want to learn more? I'm looking forward to hearing from you!
Theresa Hempel
Digital Business School | dotSource GmbH