Our Certification Tracks in the Digital Sector

Understand and implement digital business
Understand and implement digital business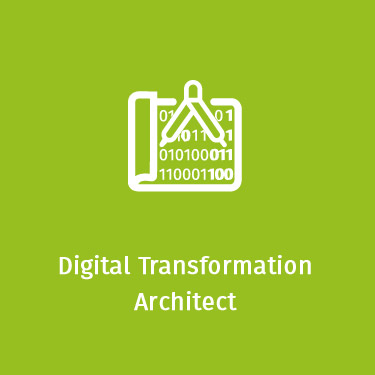 Understand digital business and transform business models
Understand digital business and transform business models
Digital Training Courses for Successful Transformation Processes
DIGITAL SOLUTIONS NEED PEOPLE WHO FILL THEM WITH LIFE
In recent years, companies have changed more rapidly than in any other phase of the industrial revolution. The reason for this is the ever-increasing digitalisation.
It is putting processes, value chains, business models and even entire organisational forms to the test and is forcing companies to rethink their approach in order not to lose their competitiveness.
The digitalisation of marketing, sales and service has become a must, as has the transformation of internal business processes.
On their way to a digital future, companies need qualified employees. In order to continue to meet customer and market requirements as well as to promote new ideas and business fields, targeted training opportunities in the area of digitalisation are required.
FROM CORPORATE INSIDER TO DIGITAL EXPERT
The technical and commercial qualifications of experienced professionals and executives in organisations are often not sufficient for the very complex and constantly changing discipline of digitalisation.
At the same time, comprehensively trained digital professionals are not only hard to find, but also highly sought after.
Training existing staff on a digital level offers the opportunity to expand the already existing expertise of one's own professionals and executives with the digital competence that is necessary to develop and implement future-proof corporate strategies and business models.
This way, long-standing corporate insiders are turned into digital experts who are already working on implementation solutions for their company during their training.
OUR RANGE OF TRAINING COURSES FOR BUILDING AND ENHANCING YOUR DIGITAL COMPETENCE
With the training and development of your digital experts, we support you in mastering digital transformation!
You or employees of your company can take part in the certification tracks at Digital Business School to become an »E-Commerce Manager« or »Digital Transformation Architect«!
If you are interested in special focus topics from our various seminar series, you have the option of booking individual modules.
What Our Seminar Participants Say
The course offers very deep insights into the different areas of e-business and is structured in a very entertaining and practical way. The close cooperation with various external experts and the cross-company group of participants really broaden horizons as well – in every area of responsibility.
Companies today can no longer ignore the rapid development of e-business. It is necessary that employees are specifically trained in this area. The seminar imparts a great deal of practical knowledge and methods in a collegial atmosphere. Just perfect!
Digital transformation is not limited to IT or e-commerce. It requires thinking outside the box, discussions with pioneers in new topics and a critical examination of the tasks at hand. This is exactly what Digital Business School offers with its ›Digital Transformation Architect‹ certification course, which my colleagues have completed. This provides them with an excellent basis for multiplying these aspects in our company.
Thanks to the successful mix of theory and practice in combination with lectures by external speakers, the ›E-Commerce Manager‹ certification course is recommended for anyone working in the digital sector. The way the course thoroughly covers the various topics, from strategy to implementation, gives you the opportunity to look at a project in its entirety.
The Würth Group invests in digitalisation in all company divisions. E-business is an important extension of our multi-channel distribution strategy. In this context, we want to give our employees the opportunity to take part in the ›E-Commerce Manager‹ certification course.
Training courses must be coherent in terms of content and concept so that I do not end up with the feeling that I could have made better use of my time. Many things depend on the speakers. They are brilliant at Digital Business School – engaging, competent and focused on practical aspects. The seminar series provided me with excellent basic knowledge. This enables me to exchange professional expertise with software developers in my role as a project manager.
This Is What Makes Us the Right Partner for Training in the Field of Digital Transformation:
Extensive experience in the concept creation and implementation of complex, partly multinational digital projects since 2006
Far-reaching expert and partner network with renowned associations and institutions from the digital sector
Strategy, technology, mindset: 360-degree view of the entire process chain of digitalisation
Tool and method know-how for user-centric, interactive and practice-oriented training concepts in the digital sector
Successful digital training of numerous companies, including internationally operating groups, since 2015